Introducing our vCISO Services, plus best practices to protect your systems and user accounts.

New Corvus Feature: Introducing vCISO Services
With the influx of news stories that cover the worst-case scenarios of ransomware attacks, there's an increasingly high standard for adequate security measures. With that, there's now an overwhelming number of options and vendors to choose from when taking steps to mitigate risk at your organization. If every product boasts something new and shiny, how do you decide what will end up serving you best?
We're now partnering with top service providers to help you conquer the necessary steps for peak cyber hygiene, at a reduced cost. Whether it's implementing multi-factor authentication or optimizing your security with network segmentation, we can connect you with the best in the business through a suite of consultative sessions.
For more on our vCISO Services, click here.
---
Risk + Response Tips
Security tips and service updates from VP of Smart Breach Response Lauren Winchester
Our goal, as always, is to enable organizations to protect themselves from cyber incidents and threat actors. To succeed, there's two crucial steps: know what security measures to take, and then actually be able to implement them. Our vCISO Services can help with both. What can you expect from our vCISO Services and how does it work?
Fill out our form and check off any services you're interested in, and our Risk + Response team will be in touch with details and next steps.
With vCISO Services, you can access a suite of consultative services with top cybersecurity firms — at a reduced cost.
We want to help you meet your organization's unique goals to strengthen your infrastructure against threats. You can determine what offerings and service providers will help you meet your specific needs.
The consults include: Multifactor Authentication, Endpoint Detection & Response, Backups, Active Directory, Network Segmentation and Cloud Security Configuration
Don't forget about our in-house team and our Risk + Response Services. With both hands-on help and digital services, we can help you get the most out of your reports from Corvus.



---

CISO Corner
Noteworthy trends in cybersecurity from Chief Information Security Officer Jason Rebholz
The Microsoft Threat Intelligence Center noted new activity from threat actor NOBELIUM, who became infamous from their attacks against SolarWinds. We'd like to highlight the positive: their recent attempts were mainly unsuccessful, and the majority of their targets were not compromised. The most recent activity appeared to be mainly password spray-and-brute attacks, which your organization can easily safeguard against with the proper security precautions. This most recent activity highlights that even the most sophisticated threat actors will leverage basic techniques as part of their attack.
While there's nothing urgent for companies to act on — no patches or vulnerabilities — we'd like to take an opportunity to remind you of some best practices to protect your systems and user accounts.
We've covered multi-factor authentication (MFA) before, but here's an opportunity to highlight its importance in the wild. It requires users to provide two or more credentials, such as a password and verification from your cell phone or hardware token, to allow you log-in access. This security measure can greatly mitigate the likelihood of a successful account takeover. For more on MFA implementation, you can read our full article here.
We also recommend ensuring that you're using unique passwords for all accounts. Leverage password vaults to easily manage complex passwords.
Lastly, monitoring systems and applications for failed login attempts to detect potential attacks can serve as an early warning of malicious activity targeting you.


---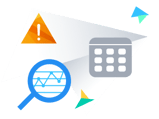 Threat Report
What to watch for this month.
No new vulnerability alerts were sent out by Corvus this month, though some of you received emails regarding Microsoft Exchange vulnerabilities, RDP, and SMB and should be sure to take action on those alerts.