Learn more about the Vendor Marketplace in the Policyholder Dashboard and how to use it
What is the Vendor Marketplace and Where is it Located?
The Vendor Marketplace is part of the vCISO Center in the Corvus Policyholder Dashboard and is available to all Corvus Policyholders. The Vendor Marketplace is a centralized repository of thoroughly vetted partners that offer cybersecurity products and services. When exploring the Vendor Marketplace, you will be presented with "tiles" that include: descriptions of our cybersecurity partners, what categories of services or products they offer, and upon clicking an individual tile, it will connect you directly to the vendor.
Corvus has strategic relationships with vendors in the marketplace to unlock preferred pricing. In the spirit of staying true to our mission of making the world a safer place, Corvus is not involved in any sales that occur within the marketplace and we hand off this preferred pricing to our policyholders. As a Corvus Policyholder, you can take advantage of discounts in the Vendor Marketplace to continue along your security journey. By doing this, we hope to help organizations become more secure while also being cognizant of budgetary constraints.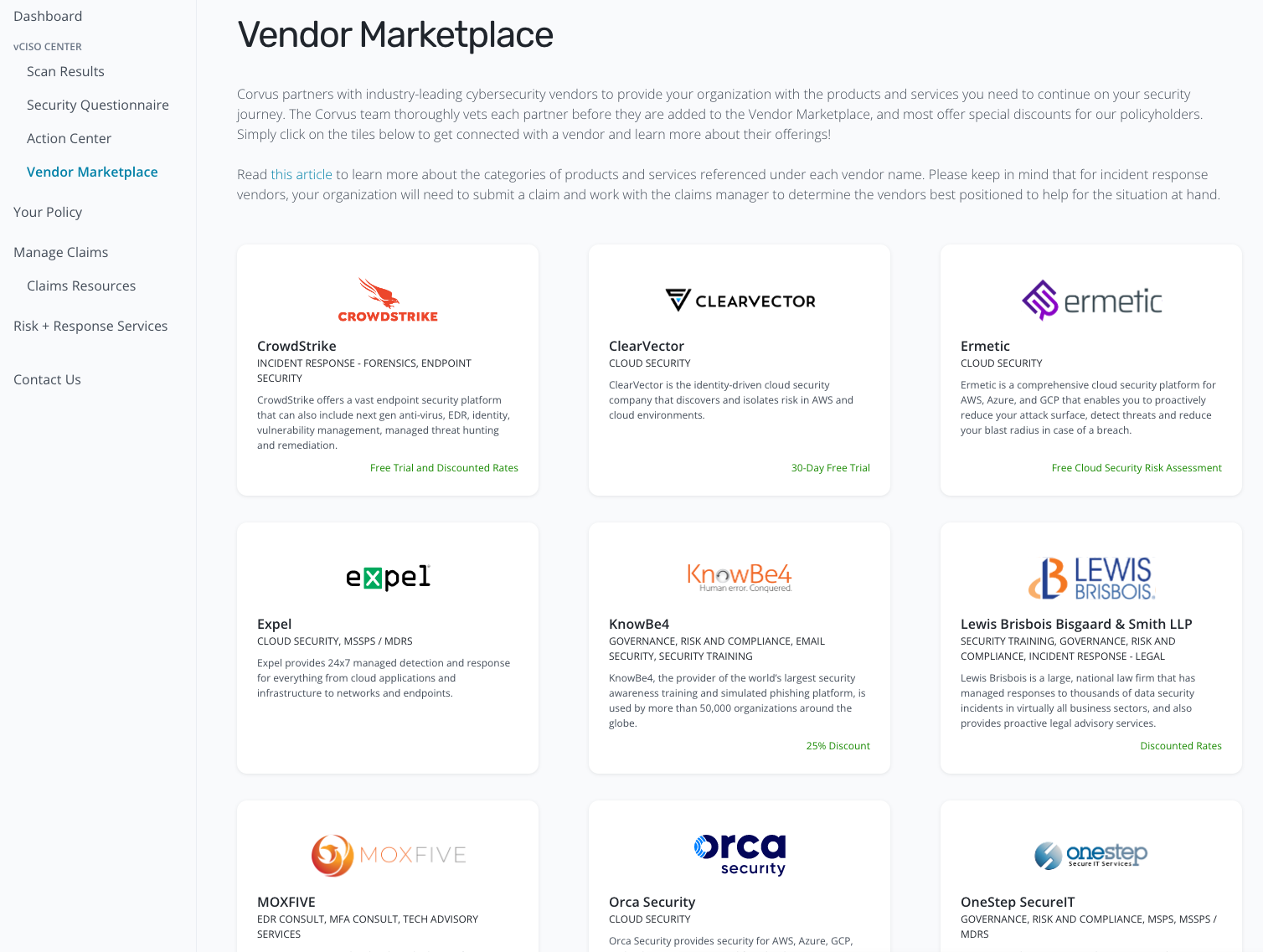 What types of vendors are in the Vendor Marketplace?
All vendors in the Vendor Marketplace have been thoroughly vetted by the Corvus team to ensure they will be a value-add to your organization and cybersecurity program. Vendors included within the Vendor Marketplace have been identified as industry leaders in each category of products / services and were handpicked by the Corvus Team with policyholders in mind. This means that each category of products and services includes vendors that will cater to each of our policyholder's unique needs, big or small. To learn more, simply click on a tile to get connected with a vendor and discuss how their offerings can help improve your organization's cybersecurity program!
What do the categories of services or products mean?
Vendors in the Vendor Marketplace are tagged with sub-categories of product or service offerings. There are three overarching categories that these products and services fall into: Security Products, Security Services, and Incident Response Services. See below for more details and an explanation of each sub-category.
Security Products
If you are responsible for your organization's security (or its security budget), you have likely observed the sheer volume of cybersecurity products available and may struggle to cut through the noise of product data sheets. The Corvus Team regularly receives this feedback from our policyholders, and the Vendor Marketplace seeks to turn the volume down and help you focus on pre-vetted vendors with great track records. Security products typically fall within the following sub-categories (and we will be rolling out new partnerships in each of these categories on an ongoing basis):
Backup and Recovery
Cloud Security
DDOS Mitigation
Email Security
Endpoint Security
Firewalls (VPNs)
Insider Threat
MDM
Privileged Access Management (PAM)
SaaS Backups
SaaS Security / CSPM
Security Training
SSO / MFA / Authentication
Third Party Risk Management
Vulnerability Management
Web Application Firewalls
Zero Trust Network Access (ZTNA)
Security Services
Whether your organization has no internal information security resources, or you have a full time CISO on staff, chances are you could use some additional help, or outside assessment, from security experts. The Corvus Team has thoroughly vetted cybersecurity firms that offer a range of services from assessments, consults, vCISO advisory through to full managed security services. Reach out to our vendors to learn more about their services offerings and preferred pricing for Corvus policyholders.
Managed Security Services Providers (MSSPs) / Managed Detection and Response (MDRs)
IT Managed Services Providers (MSPs)
Backup as a Service
Consults on Active Directory Hardening, Backups, EDR, and MFA
Governance, Risk and Compliance (GRC)
Penetration Testing
Security Assessments
Tech Advisory Services

Incident Response (IR) Vendors
When your organization experiences a cybersecurity incident, you may need outside help – Incident Response Vendors – to investigate and respond. In the Vendor Marketplace, these incident response vendors fall into three main categories: IR - Legal, IR - Forensics, and IR - Notification and Identity Monitoring. Please keep in mind that for incident response vendors, your organization will need to submit a claim and work with the claims manager to determine the vendors best positioned to help for the situation at hand.
Legal counsel, often referred to in the industry as "Breach Coaches", help policyholders determine whether notification to individuals or regulators is required under various state, federal and international laws and regulations. If required, counsel will assist in drafting the notification letters.




Digital forensics firms help policyholders investigate what occurred and confirm there is not an ongoing threat. These firms may also assist with ransom negotiation and data recovery if capable.
Notification, call center, and identity monitoring vendors will mail breach notification letters to impacted individuals, staff a call center, and provide identity monitoring services when appropriate.
Questions? Feedback? Please reach out to the Risk + Response Team at Services@corvusinsurance.com.