Use your Corvus Policyholder Dashboard to Prepare for Renewal
The dynamic threat landscape is constantly evolving. To keep up with new cyber threats, requirements for cyber insurance policies must change, too. Corvus offers digital tools for renewal preparation to help our policyholders mitigate risk (and stay insurable).
In addition to services that your broker offers to help you prepare for renewal, the Corvus Policyholder Dashboard can help you identify gaps in security controls. The step-by-step guide below outlines how you can leverage your Dashboard to prepare for your upcoming renewal. 📹 Watch our video guide to get renewal ready!
Who should be involved?
3 months prior to renewal, your broker will have resources available for you to begin the process.
To complete the below steps, you will need someone with an up-to-date understanding of your organization's IT infrastructure and cybersecurity posture.
How to Use your Dashboard to get Renewal Ready
1. Log into the dashboard
Sign into your Dashboard to complete the below steps or grant access to the appropriate team member with up-to-date knowledge of your infrastructure and cybersecurity posture.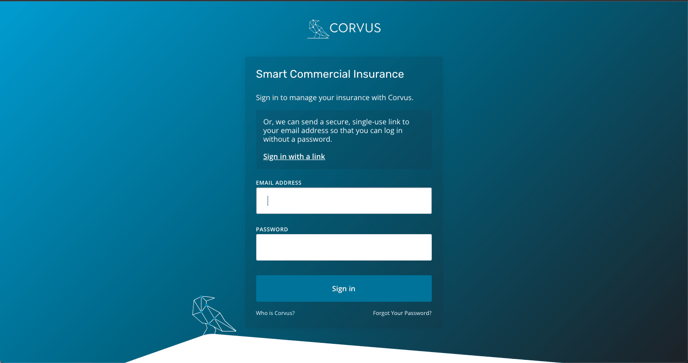 2. Add team member(s)
If the right person does not have a registered account with Corvus, click the drop down arrow next to your name in the top right corner of your Policyholder Dashboard to add them. From there, you will see three options, select "My Team".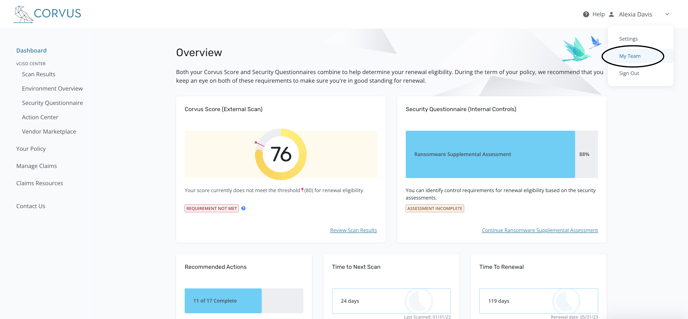 On your My Team page, select "Add User".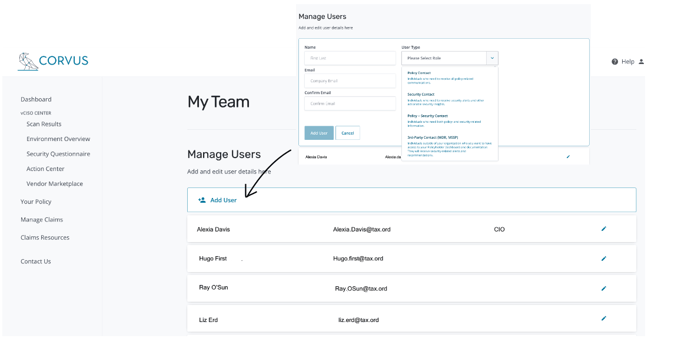 3. Review Overview
a. Once you have logged in, review the Overview Section of the dashboard. If your Corvus Score is 80 or higher, great news! You are on the right track for renewal!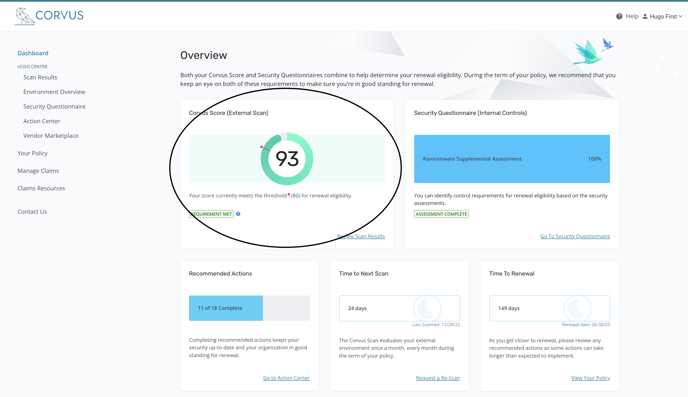 b. If your Corvus Score is below 80, select the Environment Overview tab from the menu on the left side of the page.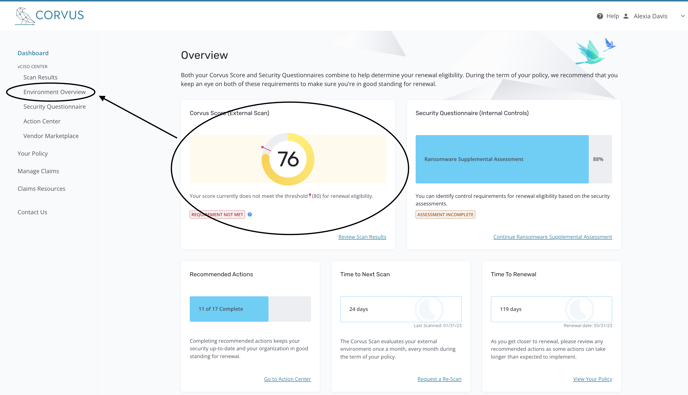 4. Reviewing the Environment Overview Page
a. Review the Environment Overview page and confirm that all of your organization's "Associated Domains" are accurate.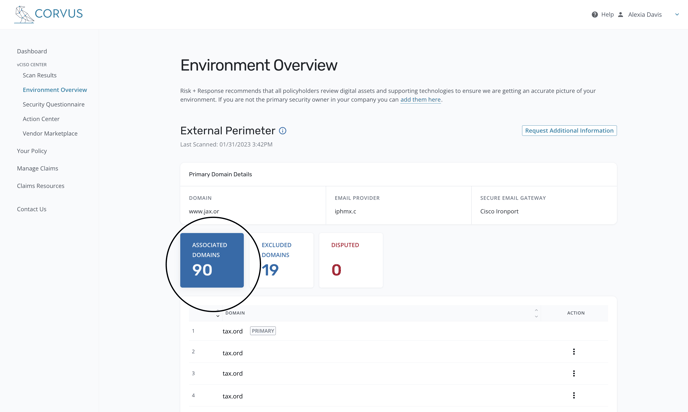 b. If you wish to dispute a domain, click the three dots under the "Action" column where "Dispute" will appear. Once submitted, a member from our team will review and verify the dispute. When the dispute has been validated, they will remove the domain from the scope of your scan.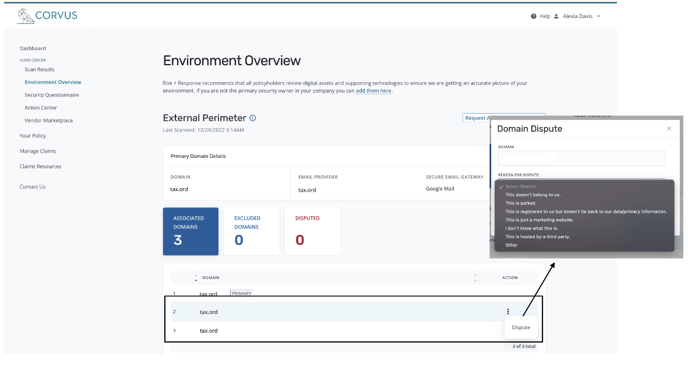 5. Complete the Ransomware Supplemental Assessment
Click Security Questionnaire on the left menu. Fill Part 1 - Ransomware Supplemental Assessment or verify that the existing answers are still accurate. This will help determine security control gaps you may need to remediate for renewal that have not been identified by the Corvus Scan.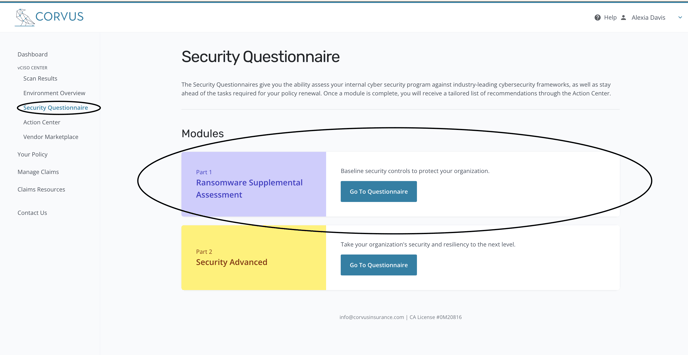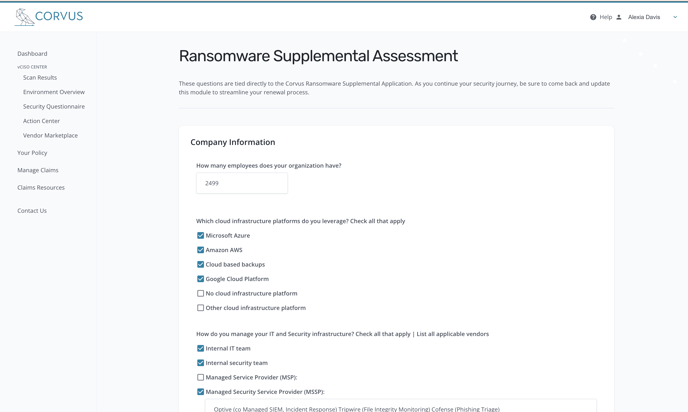 6. Visit the Action Center
Next, click into the Action Center to review the prioritized list of recommendations to help put you in the best possible position for renewal. Each recommendation will refer to a finding from the Corvus Scan or the Security Questionnaire response.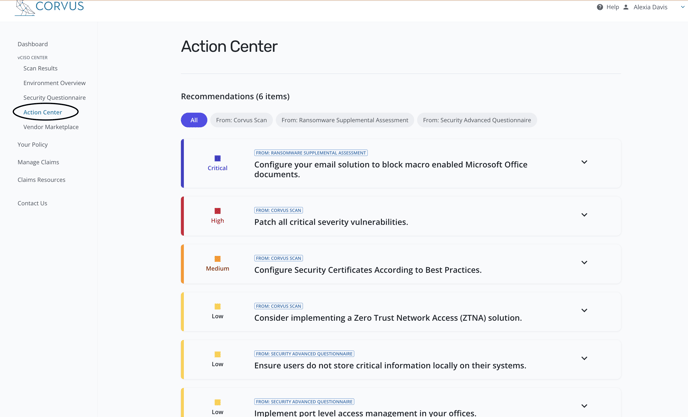 You can filter the recommendations to review the scan findings that impact your Corvus Score or the security control recommendations from either the Ransomware Supplemental Assessment or the Security Advanced Questionnaire (these findings are not considered in your Corvus Score).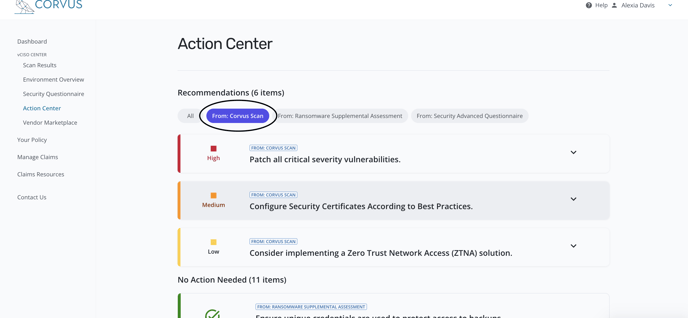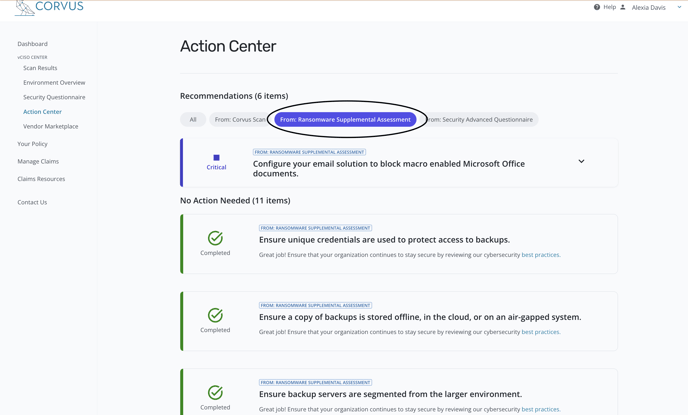 📹 Watch our video guide to get renewal ready!

Additional Guidance
For more information on control considerations, check out our Guide to Common Security Controls.
If you still need assistance, we're here to help. Please email the Risk + Response Team at services@corvusinsurance.com and request a renewal readiness call.
This is information on how to use the Corvus Policyholder Dashboard to prepare for renewal, and it is not the renewal solicitation. Eligibility for renewal is determined when you apply for coverage. Policy quotes, terms and conditions, and premiums are made in accordance with Corvus Insurance's underwriting guidelines. Coverage may not be available in all jurisdictions.