Once your Corvus Insurance policy is bound, you have access to our Policyholder Dashboard and all of the resources that go along with it. Learn more about what to expect from our policyholder experience.
Policyholder Welcome Email
After your policy is bound, we will invite you to claim your Corvus account. The email invitation will come from services@corvusinsurance.com and contain a link to complete account set up. It's critical that you establish an account with us so that we can send you your quarterly security reports and vulnerability alerts directly!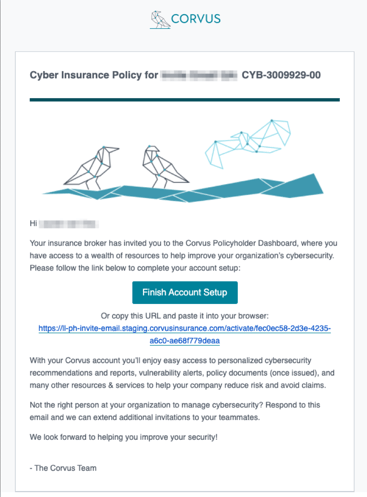 Policyholder Dashboard
Once your account is set up, you will enjoy easy access to the following resources and services from your account, which will help your company reduce risk and avoid claims.
Dynamic view of cybersecurity recommendations based on the Corvus Scan and the Security Questionnaire.
Contains a Vendor Marketplace where you can identify Corvus-vetted vendors and services at discounted rates.

Receive an email alert when the Corvus Scan detects a new cybersecurity vulnerability on your systems, and proactively address the issue before an incident can happen.

Risk Management Portal

From your account, access a wealth of resources like the Incident Response Plan Roadmap, cybersecurity & response vendor recommendations, and a learning center to better prepare in case of a cyber event.

Corvus Risk + Response Services

Improve your cybersecurity posture by taking advantage of the Corvus Risk & Response Services available through your policy, such as a Corvus Scan Report review call.

Security Awareness Training Discounts

Corvus is partnered with several industry leading cybersecurity vendors to provide discounted products and services to our policyholders.

Policy documents (once issued)