Corvus offers your clients access to a Policyholder Dashboard as part of their policy. Learn more about what to expect from our policyholder experience.
Policyholder Welcome Email
After a policy is bound, we will invite your client to complete their Corvus account set up as long as their contact information has been added to their account in our system. As the broker of record for the insured, you will receive a confirmation email with a copy of the invite email for your records. Not sure how to add your policyholders so that they'll be invited? Click here to learn how to do it in just a few clicks.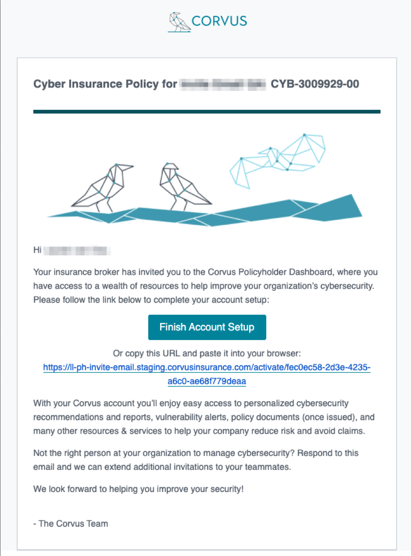 Policyholder Dashboard
Once your client's account is set up, they will enjoy easy access to the following resources and services from their toolkit to help their company reduce risk and avoid claims. Click the links below to learn more about each of our policyholder offerings.
Dynamic view of cybersecurity recommendations based on the Corvus Scan and the Security Questionnaire.

Email alerts when the Corvus Scan detects a new cybersecurity vulnerability on your clients systems, so that they can proactively address issues before an incident can happen.

Risk Management Portal

From their account, your client can access a wealth of resources like the Incident Response Plan Roadmap, cybersecurity & response vendor recommendations, and a learning center to better prepare in case of a cyber event.

Corvus Risk & Response Services

Your client can improve their cybersecurity posture by taking advantage of the Corvus Risk & Response Services available through their policy, such as a Corvus Scan Report review call.

Security Awareness Training Discounts

Corvus is partnered with KnowBe4 to offer policyholders exclusive access to a free phishing test and 25% discount on their robust security training program.

Policy documents (once issued)