Policyholders may qualify for preferred pricing with our Smart Controls Module. Here's how.
Smart Controls are the internal cybersecurity defenses Corvus looks for during the Cyber underwriting process to determine how resilient your organization is against a cyber attack. At Corvus, our underwriting process includes looking at your external security posture with the Corvus Scan and internal security controls that are 'behind the firewall'.
Corvus has thoughtfully chosen Smart Controls as internal security measures that positively impact a policyholder's overall security posture. It is important to note that Smart Controls are not the same as minimum underwriting control requirements. Depending upon application responses to questions related to Smart Controls, policyholders can qualify for preferred pricing if they receive over a 75% upon completion of the Smart Controls Module.
If you have security controls in 5 areas, your organization is viewed as less likely to have a claim / security incident. The 5 key areas include:
MFA for email
MFA for remote access
Privileged Access Protection (any one of the following: MFA for administrative access, password vault, PAM tool, secrets manager)
Resilient backup strategy
Endpoint Detection and Response (EDR) Solution
Find out more about our recommended security controls here.
What is Preferred Pricing?
Smart Controls are factored in as part of the underwriting process and pricing calculation. Our underwriting process takes into account multiple variables to calculate policy premium. Some parameters include: industry, size, revenue, threat landscape, claims data, internal security controls and external security posture. Pricing can vary over time as market conditions change and claims develop, so this is why there is not a set percentage of how favorable controls will impact premium pricing.
Having superior security controls results in superior pricing!
How can I use the Corvus Risk Dashboard to determine if I have met the threshold for Smart Controls?
The Smart Controls module was created as a tool to help your organization determine what steps (if any) you should take prior to renewal. This tool is meant to help you prepare for the renewal process and have visibility into the key controls Corvus underwriters want to see.
Please note - the responses that you put into the module will not be viewed by Corvus underwriting, they will review your renewal application as submitted through your broker.
To use the tool, navigate to the Security Questionnaire section of your Corvus Risk Dashboard. You will see the 'Smart Controls' Module in your dashboard (all Cyber policyholders will see the module; however Tech E&O policyholders will not).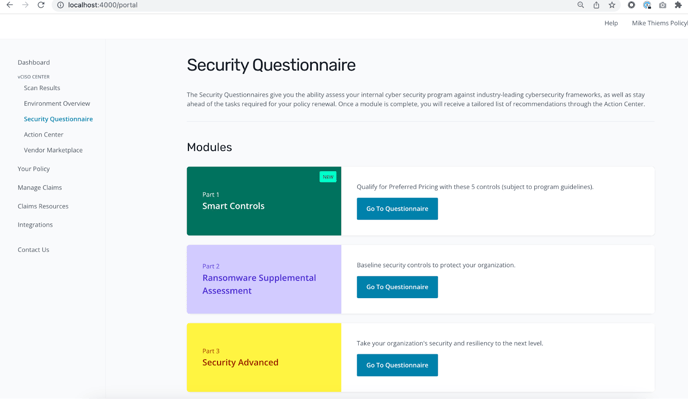 You will need someone with an up-to-date understanding of your organization's IT infrastructure and cybersecurity posture to complete the 'Smart Controls' module. If the right person does not have a registered account with Corvus, click the "team" tab in the top right corner of your Policyholder Dashboard to add them.
As you work through the Smart Controls Module, the 'Eligibility Progress' bar will track your progress towards becoming eligible for preferred pricing come time for renewal. If you are above a 75%, congrats! Your organization is eligible for preferred pricing If not, please navigate to the 'Action Center' to see areas of improvement and what steps your organization can take to become eligible.

Are Smart Controls the same as minimum underwriting security control requirements?
Not in all cases. Some Smart Controls may overlap with minimum security controls that are required for renewal, but not all. Refer to your broker and Corvus Underwriter during the renewal process for the exact requirements to be eligible for coverage.